Director of Marketing & Sales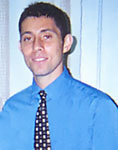 Patrick Zimmermann joined East Air in May of 2001 after managing military accounts at Derco Aerospace. Patrick has over 20 years of aerospace sales and marketing experience. He is currently managing and developing commercial accounts in Europe, the Middle East and Africa.
Patrick holds a Bachelor of Arts in Language and Economics from Boston College.
Languages spoken: French, English and Arabic