Vice President of Quality Assurance & Operations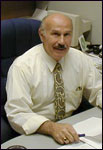 Joseph Cosma is the Vice President of Quality Assurance & Operations. Joe joined East Air Corporation in 1994 after a 29-year career with Pan American World Airways. During his time with Pan Am, Joe held many positions in the aircraft maintenance and quality control departments.
Joe prepared and directed East Air through its ISO 9002 certification process. Joe's leadership and direction enabled East Air to be among the first US based aviation service companies to receive an ISO 9002 certification from Det Norkse Veritas (DNV).
During his active service in the United States Air Force, he attended the University of Maryland. Joe has received numerous maintenance certifications and training, including a FAA Airframe and Powerplant (A&P) license, A SNT level II Non-Destructive Testing (NDT) Inspector qualification, also including internal borescope inspection. He holds an Airline Transport Pilot (ATP) and Certified Flight Instructor (CFI) ratings. Joe serves on the Aviation Suppliers Association (ASA) Quality Assurance Committee and is the 2007 recipient of the ASA's Edward J. Glueckler lifetime achievement award for his contributions to the association and the aviation industry. In June of 2009 he received the FAA Charles Taylor "Master Mechanic" Award in appreciation for dedicated service, technical expertise, professionalism, and many contributions to further the cause of aviation safety.
Languages spoken: English, Italian and Japanese