Chairman and Founder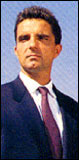 John Nepola is the President and CEO of East Air Corporation. John is the youngest of Mr. Nepola's three sons and has been with East Air since 1982. He became involved in the family business at an early age, and has gradually progressed through the management ranks to earn his current position as President and CEO. John presides over the Board of Directors of East Air Corporation.
During the late 1980s, John was instrumental in the development of East Air's military and engine component sales activity. Among his many achievements, John is credited with the development of East Air's relationship with Pratt & Whitney as their exclusive international marketing representative from 1987 to 1995 and with the rapid international growth of the East Air organization. John has led East Air's growth and evolution over the past thirty years.
John holds a BA in Economics and History from Tufts University and holds a degree in Management from the Wharton School of Business, at the University of Pennsylvania.
Languages spoken: English and Italian