Chairman and Founder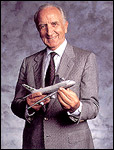 Gino Nepola is the Chairman and Founder of East Air Corporation. Mr. Nepola's passion for the aviation industry began in 1941 during the World War II when he entered the CPT program as a CAA official and was responsible for training civilian pilots before entering the Air Corps.
After the War, he went on to obtain a BS and a Doctorate of Law from New York University. After completing his education, Mr. Nepola created East Air in 1950 by obtaining the authority to be a designated stocking facility and repair station.
From 1958 to 1962, he owned and operated a charter airline based in Germany that provided passenger and cargo services throughout Europe and Africa with its four Douglas DC-4 aircraft. During this period, he observed first-hand the many difficulties and inefficiencies that existed in the aerospace supply chain from an operator's perspective. This experience made him realize his long-term business objective was to become a premier aviation support organization providing the highest quality products and services available in the industry.
Mr. Nepola's involvement in the early development of the aviation services industry has been significant. In 1989, his contributions and dedication to the aviation industry were acknowledged through his induction into the Aviation Hall of Fame of New Jersey. Beyond his many industry contributions, he continues to remain active in the local community by participating in various philanthropic organizations.
Languages spoken: Italian, English, German, French and Spanish.